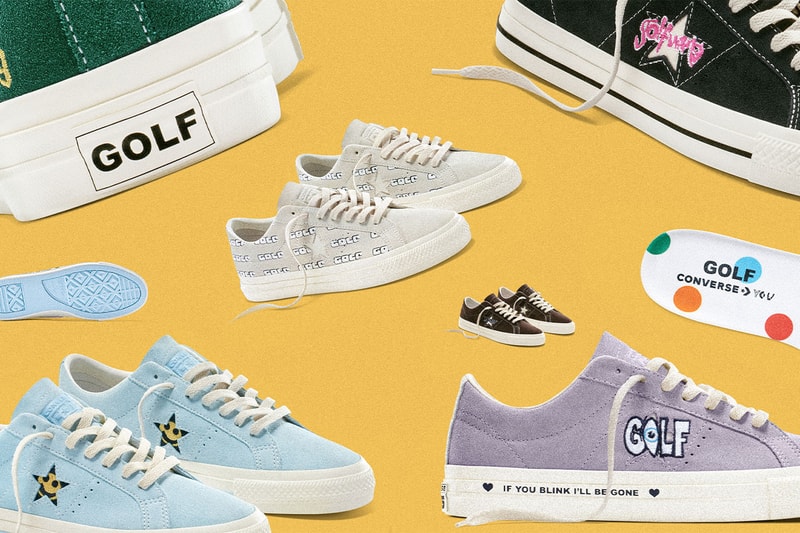 Tyler, the Creator and Converse, have joined forces to create an exclusive and personalized sneaker experience called "GOLF WANG One Star Pro By You." Coinciding with the highly anticipated Camp Flog Gnaw weekend, the GOLF WANG One Star Pro By You experience will provide fans with the opportunity to customize their very own pair of Converse One Star Pro sneakers. Offering an array of GOLF WANG design elements, this customization venture allows individuals to showcase their unique style while embracing the vibrant and creative essence synonymous with Tyler, the Creator's vision.
Customization Options for a Truly Personalized Sneaker
The canvas for this personalized experience is the One Star Pro model, a favored low-top sneaker within street and skate communities. When diving into the customization process, enthusiasts are met with an expanse of options to truly make their sneaker their own.
Starting with the upper canvas, fans can choose from six vibrant colors, including options such as Blue Glow and Barbados Cherry. These visually striking hues create a base that can then be paired with a selection of GOLF WANG graphics and logos, allowing for a distinctive look that reflects one's personal style.
The customization journey doesn't stop there. Additional options include selecting lace color, rubber hues, and pinstriping to further elevate the design. Converse ensures that no detail goes unnoticed, even offering multiple outsole options for further personalization. With each element chosen, fans can rest assured that they will create a truly unique and one-of-a-kind pair of shoes.
Collaboration is a fundamental aspect of this experience. The left heel of each pair will feature a prominent GOLF WANG logo, emphasizing the collaborative effort between Converse and Tyler, the Creator. Accenting the right heel is the "Converse CONS" logo, further showcasing the fusion between the two iconic brands.
Experience Details and Availability
The Converse x Tyler, the Creator GOLF WANG One Star Pro By You experience will run from November 10 to 13, providing fans with a limited window of opportunity to participate in this exclusive customization venture. To access the configurator and complete the checkout process, enthusiasts can visit Converse's official website.
For those eager to stay up to date with the latest drops and releases from the Golf Wang community, be sure to visit Golf Wang Community at golfwangcommunity.com . Stay connected for further updates and exciting collaborations in the world of fashion and sneakers.
---
Frequently Asked Questions
1. Can I customize any Converse sneaker with the GOLF WANG design elements?
No, the customization experience is currently limited to the One Star Pro model. This specific low-top sneaker serves as the canvas for personalization, allowing fans to make their unique mark on this iconic silhouette.
2. How long does the customization experience run for?
The GOLF WANG One Star Pro By You experience is available from November 10 to 13. Make sure to take advantage of this limited-time opportunity to create your own personalized pair of Converse sneakers.
3. Are there any limitations to the customization options?
The customization options provide a wide range of choices to express your personal style. However, please note that certain design elements and features are predetermined within the GOLF WANG collaboration, ensuring a cohesive aesthetic that aligns with Tyler, the Creator's artistic vision.
4. Can I purchase the GOLF WANG One Star Pro By You sneakers in stores?
The exclusive customization experience is available online only through Converse's official website. Visit their site during the specified duration to access the configurator and complete your purchase.